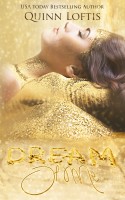 "Since the dawn of time, Brudair, otherwise known as the Sandman to the world, has faithfully lived out his purpose, faithfully performed his duties. He has never questioned his lot among the immortals, until now, until her. Sarah Serenity Tillman, a consummate beauty both inside and out, is a high school senior five months from graduation. She has great plans, dreams of leaving the small town of her childhood behind her forever. But destiny has other plans, and it's the Sandman's job to make sure those plans are fulfilled.
The tall muscular Sandman, known as Dari to his friends, dressed in black, wrapped in shadows, is more than a myth. And he has a job to do. His very existence makes him a creature of the night, because dreams, (yes the legends got that part right), were indeed his specialty. But his purpose was more than just weaving dreams for sleeping children. No, his dreams were made to influence, made to ensure that certain special individuals, those individuals who would change the course of history, actually accepted their chosen destiny.
Little does Serenity know that she is Dari's next assignment. And the dream he weaves for her, if she follows it's influence, will change the course of, not only her life, but possibly the whole of history as well. But she isn't the only one being influenced. The beauty inside of her was weighing on the Sandman, lighting up the darkness that was his constant companion. Her light was warmth, it was life, and he didn't understand how he had survived the previous millennium without it.
The Sandman was indeed greater than anything humans had ever imagined, and his purpose was vital to the course of history. So what happens when the weaver of dreams gets so distracted by a mere human that he ignores his own duties in the immortal realm? How can an immortal who never meant to have a mate, join a young woman in her destiny without irrevocably changing the lives of millions and potentially altering history in a way the Creator never intended?
"Dream of Me, Princess," Dari whispered into her ear.
"Then weave me a dream, Sandman," she said softly. "And we can dream together."
As her eyes grew heavy, she heard Dari's voice telling her to sleep, to open her mind to him and let her in. I'm all yours, she thought as sleep finally claimed her."
This book is about Brudair, Dair, The Sandman as known to the world. But he is not as everyone said he was. Made by the Creator, he weaves dreams not for everyone but for the ones God "The Creator" has a plan for. Not to tell them what to do, people have free will, but to influence them. All is well for Dair until he starts to fall for his next assignment, Sarah Serenity Tillman, the girl who's dream is to leave her childhood home for better things. Only that's not in the Creators plan, she has a bigger destiny waiting for her if only she'll follow it. But what if she falls for Dair too? The man never destine for a mate, love, is now ready to throw it all away for a girl who brings light into his lonely world. But is that in the Creators plan for her?
I read Quinn's "Gray Wolves" series and fell in love with the way she writes, It's so detailed and
imaginative. It pulls you in and you just can't stop reading. I loved this book so much, not only do I love the legend of Sandman (especially the way Quinn writes it), but I love the idea of him working for God. Being a Christen myself I love finding authors that are Christians and write Christen books, but not boring ones! (Let's be honest Christen books aren't always exciting). I fell in love with Dair along with Serenity and who can't love Emma, such a smart girl for someone so young.
I couldn't wait to read this book when I heard about it and after reading I can tell you that it's amazing and definitely worth the read. I HIGHLY recommended any of Quinn's books, All are amazing. And if you fell for Dair too wait until you read the "Gray Wolves" series, because let's be honest you'll fall in love with Fane as well. I love the way she write's her male characters but it makes it even cuter when you know that she base's them all off of her husband.... *le sigh* How sweet is that!?! I give this book five stars and think all of you should read it!!
Stars given:☆
☆
☆
☆
☆
About Author:
Quinn is an award winning author who lives in beautiful Western Arkansas with her husband, two sons (and one on the way!), Nora the Doberman, and Phoebe the Cat (Who thinks she a ninja in disguise). She is the author of fourteen novels, including the USA today bestseller "Fate and Fury". Quinn is beyond thankful that she has been blessed to be able to write full time and hopes the readers know how much their support means to her. Some of her hobbies include: reading, exercising, crochet, and spending time with family and friends. She gives all her credit of her success to God because he give her the creative spirit and vivid imagination it takes to write.
WHERE TO BUY THIS BOOK!!